August 2, 2022
Ellis Ross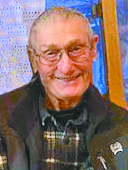 Ellis Lavern Ross, 92, of Watford City passed away surrounded by his loving family. He was born on Dec. 6, 1929, to Claude and Vera Ross on a farm near Alexandria, S.D., the first of their five children. In 1942, his parents bought a farm in Sanborn County, where they raised hogs, cattle, horses and poultry. In Dad's words, he was first a "chore boy, later a farm hand." He graduated from 8th grade country school in 1943, and from Artesian High School in 1947.
After high school, Vern "drifted a bit" working as a hired hand both on the family farm and for other area farmers. He also drove trucks, hauling livestock and poultry from Mitchell to processing plants in Iowa and Nebraska.
In 1951, he was drafted into the U.S. Marine Corps. He went through boot camp in San Diego, and served at Camp Pendleton, Calif., in the 3rd Tank Battalion, and completed his service in November 1953, at Headquarters of the 9th MCR&RD in Chicago, Ill. He entered South Dakota State University in January 1954, on the GI Bill. He graduated in December 1959, and worked as a farm manager until hiring on with the Farmers Home Administration in November 1961.
He married JoAnne Essink on Dec. 1, 1957. As Kenneth was born in January 1959, Ellis and JoAnne knew the struggle of supporting a family while going to college. Laura and Doug were born in South Dakota, so it was a family of five that Ellis and JoAnne packed up and moved for a two-month training period in Dickinson. In January 1962, the FHA assigned him to Linton, where Tom was born, completing their family. In 1965, the family moved to Towner, then relocated to New Town in 1974. In 1980, Ellis and JoAnne moved to Watford City and built their current home. Ellis retired from the FHA in November 1989.
After retirement, he had more time to devote to "being a cowboy" riding, raising and training horses. Ellis helped area ranchers with calving and roundups. A highlight was assisting with buffalo roundups at the North Unit of Theodore Roosevelt National Park. After finding pleasure in helping his grandkids with their 4-H steers, he began finishing a couple of calves each year for his family's use.
Throughout his life, Ellis dedicated himself to faith, family, community and fun! Upon arriving in a new location, Ellis would establish a church home, serving in whatever capacity was needed. He also got involved in the local community, volunteering as a Webelo and Boy Scout Leader. He was a 69-year member of the American Legion, championing the Oratorical Contest in both Towner and Watford City. As a member of the Carl E. Rogen Post 29, he proudly served on the Drill Team. He was also a member of the Long X Wagon Trail.
He taught us all to appreciate God's creation by taking us hiking, canoeing, tobogganing, fishing, hunting, camping and horseback riding. Our family playgrounds were the Mouse River and the J. Clark Sayler Wildlife Refuge in Towner, Lake Sakakawea and the North Unit of Theodore Roosevelt National Park. He introduced us to basketball, tennis, cross country and downhill skiing. He loved to play games, ping pong, Upwords and work crossword puzzles.
He is survived by his devoted wife of 64½ years, JoAnne; sons, Ken of Arnegard, Doug (Marilyn) of Watford City, Tom (Betty) of Bismarck; and daughter, Laura (Jeff) Rust of Bismarck; 7 grandchildren, Carlee (Cesar) Villarreal of Fairview, Kade Ross of Sidney, Guy Ross of Watford City, Caleb Rust of Missoula, Naomi Rust of Xenia, Ohio, Sterling Ross of Denver, Shelby (Manny) Sevilla of Bismarck; and two great-granddaughters, Mia and Emma Villarreal. He is also survived by brother, Glenn, of Rapid City.
He was preceded in death by his parents; sister, Dorothy Learn; and brothers, Clyde and Keith. Blessed be the memory of Ellis Lavern Ross.
Funeral Services were held on Saturday, July 30, 2022, at 11 a.m. at the Living Faith Church, Watford City, N.D. Pastor Roger Olson officiated. Burial followed at the Schafer Cemetery in Watford City. Military Honors were provided by the U.S. Marine Honor Guard and McKenzie County American Legion. Visitation was held Friday, July 29, 2022, from 12 to 5:30 p.m. at Fulkerson Stevenson Funeral Home of Watford City. A family service was held on Friday, July 29, 2022, at 6 p.m. at the Living Faith Church, 805 14th St. SW, Watford City, N.D.
The Funeral Service was live-streamed. You can view Ellis's service directly on his obituary page on the website www.fulkersons.com
Fulkerson Stevenson Funeral Home of Watford City is assisting the family. Condolences may be left on the funeral home website at www.fulkersons.com.
---