July 12, 2022
Niel Nelson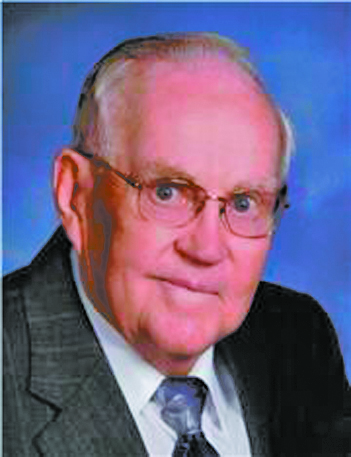 Niel Nelson was born July 25, 1932, to Andrew and Asbjorg Nelson on the family farm south of Arnegard. He was one of 7 children. In 1944, a move was made to Arnegard so they could attend school. Niel graduated from Arnegard High School in 1950.
After graduation, he farmed with his father. In 1951, he married Maxine Sondrol and they lived on their farm 9 miles south of Arnegard. Niel started building their home in 1953, while working in the oilfield and picking up jobs in the winter season. He managed Nelson Westlund Service in Arnegard for 5 years along with driving school bus.
In 1964, he went to work setting up Weather Modification programs in North Dakota and Montana. He was also involved in politics at that time lobbying for them.
Later, his interests turned to carpentry. He finished his own home in 1972, and with friends, built homes and outbuildings, while farming with the help of younger boys he hired to give the chance to experience farm life. In 1979, Wayne and Barb took over the farming operation.
Niel was a member of the Watford City School Board. He was a charter member of the Watford City Eagles Club where he served as President. He looked forward to Friday nights serving hamburgers in the park in Arnegard as a Lions Club member.
Niel and Maxine moved into the City of Arnegard in 1983. During the next few years they would travel to Arizona for most of the winter or enjoy a cruise or warm weather getaway.
His hobbies included hunting and fishing in Canada and the U.S. He and Maxine traveled to many parts of the U.S. and abroad. Later in life his favorite was playing 10½ at the Arnegard Café and fire hall.
He is survived by his wife, Maxine; three daughters, Cindy (Rick) Andersen, Bismarck, N.D., Barb (Wayne) Johnson, Arnegard, N.D., and Peggy Ostrum of Bismarck, N.D.; five grandchildren, Chad (Rhonda) Kieson, Dickinson, N.D., Torey (Jodi) Kieson, Bismarck, N.D., Mica (Graham) Peterson, Bismarck, N.D., Mandi (Chris) Dordol, Somerset, Wis., Shane (Lindsay) Johnson, Arnegard, N.D.; 14 great-grandchildren; brother, Marvin Nelson, Bismarck, N.D.; sister, Betty Bartolomei, Grand Forks, N.D.; and many nieces and nephews.
He was preceded in death by his grandson, Casey Johnson; son-in-law, Derk Bakke; parents, Andrew and Asbjorg Nelson; three infant sisters; sisters, Doris Fisketjon, Williston, N.D., Ida Evanson, Livingston Mont., Lyla Tweet, Fargo, N.D., and Arlis Fritsvold, Chaska, Minn.
Services were held Monday, July 11, 2022, at the Living Faith Church in Watford City. Burial was held at the Red Wing Cemetery in Arnegard, N.D.
Arrangements are under the direction of Fulkerson Stevenson Funeral Home of Watford City.
---