June 27, 2017
Settling into her new job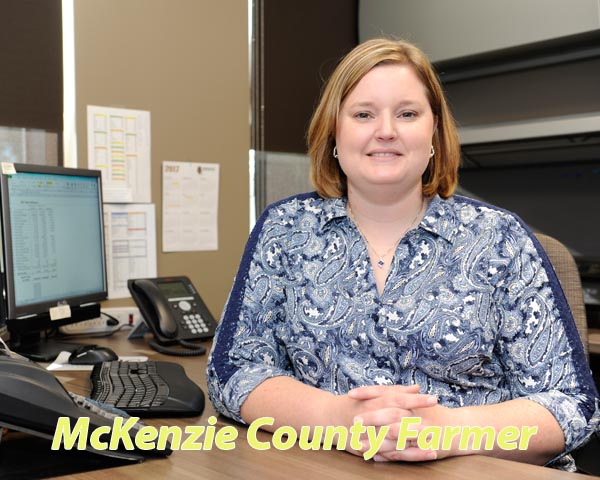 By Neal A. Shipman
Farmer Editor
After serving as McKenzie County's deputy auditor for the past three and a half years, Erica Johnsrud is confident that she can now successfully do the duties of being the county's auditor/treasurer.
"It's a big step forward from being the deputy to the department head," stated Johnsrud, who officially began duties on June 25. "I'm confident that I can do the job and Linda Svihovec has trained me well."
And the McKenzie County Board of County Commissioners believe that Johnsrud is the right person for the job as they appointed her to fill out the remainder of Svihovec's term on May 16.
"The experience that I've had as the deputy auditor provides a continuity going forward," stated Johnsrud, who is a 1996 graduate of Watford City High School and a 1999 graduate of Jamestown College with a major in biology and minor in chemistry, as well as a Ph.D. in cell biology and anatomy from the University of Kansas Medical Center.
For the full story, subscribe to the McKenzie County Farmer For the full story, subscribe to the McKenzie County Farmer
---